We are so excited to announce the launch of our book and are planning a party to celebrate.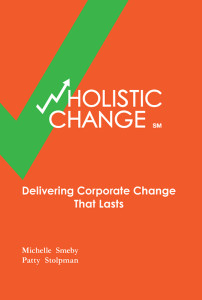 wHolistic Change: Delivering Corporate Change That Lasts is a practical, how-to book that gives you the information about change agents and the skills they'll need to be effective; how to overcome resistance to change; and an end-to-end methodology with decision points to determine if your team is prepared to deliver a corporate change that will truly last.
The book is full of checklists and questionnaires to set you up for success in handling change.
You're invited to our book launch party on September 12, 2013! 
Come celebrate the results of our three-year effort to bring you the same tools we use with our clients to deliver successful change. Enjoy a signature cocktail specially created for our party, "Gin and Change." Your first drink (signature or otherwise) is on us!
When: Thursday, September 12, 2013 4:30 – 6:30PM
4:30 – 6:30PM wHolistic Change℠ book launch: Socializing, book sales, book signing, celebratory drinks and hors d'oeuvres
6:30 – 7:30 PM Experimental Thinking Centre opens to the public; everyone is welcome to stay for the show
7:30 PM OPTIONAL: Attend "Attack of the Best of the Brave New Workshop." Tickets required.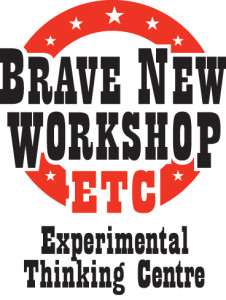 Where: Brave New Workshop (BNW) Experimental Thinking Centre (ETC) at 824 Hennepin Ave, Minneapolis, MN 55403
(612) 332-6620
Getting there: BNW is easily accessible by public transportation and is across the street from the skyway-connected LaSalle Plaza. For those driving, there are several meter, paid surface lots, and parking structures within walking distance.
Exclusive book launch offer
Come for the books, stay for the laughs!
We are giving away 50 free tickets to the September 12 performance of "Attack of the Best of the Brave New Workshop."
Use discount code BOOK online or by phone to get this exclusive deal. (Regular price $25)
Valid only for the Thursday, September 12, 2013 7:30 PM performance of "Attack."
Free tickets will be available until all 50 tickets have been claimed. After all 50 are gone, you may still purchase tickets and come enjoy the show with us after the launch party.
or call (612) 332-6620
Know someone who would benefit from our book?
Feel free to invite them to the launch. The more the merrier!
Can't make the book launch?
No problem! wHolistic Change: Delivering Corporate Change That Lasts is available for purchase in the format of your choosing: